China Social Media Marketing on Sina Weibo (

Wēibó

) 
Sina Weibo, the combination of Facebook and Twitter, is one of the most popular social media platforms in China.
End of March 2020, Weibo reached over 450 million monthly users (MAU) while daily users alone (DAU) increased to 203 million. Today Weibo is represented in over 190 countries worldwide. A platform with that high traffic gives endless possibilities for companies to place themselves in the Chinese market. Chinese internet users consider Weibo as an additional source of news and information, which offers the possibility to discuss the latest topics and trends in public. As Weibo is also very popular in other Asian countries, Weibo marketing can be an important success factor for the development of other Asian countries such as Taiwan, Hong Kong, Singapore and Malaysia.
While in the western world social platforms often do not offer interfaces to e-commerce, Weibo enables the integration of e.g. a Taobao shop (counterpart to Amazon). This simplifies the conversion of followers or prospective customers to permanent existing customers.
With the increasing popularity of short videos, live streaming possibilities and Weibo Story (counterpart to Instagram Story), the advertising and cooperation possibilities on Weibo naturally increase. Especially the cooperation with so called KOL's (Key Opinion Leader) should be considered for Weibo Marketing. The viral distribution of information through hashtags creates reach and helps your brand to gain awareness. Even though Sina Weibo is often referred to as Chinese Twitter, there are some differences to the American microblog. Looking at the Chinese customer journey, Weibo has a much higher importance in the research phase – also for companies in the B2B industry. Besides WeChat, Sina Weibo in particular should be an integral part of your marketing communication channels in China.
Siemens China Weibo account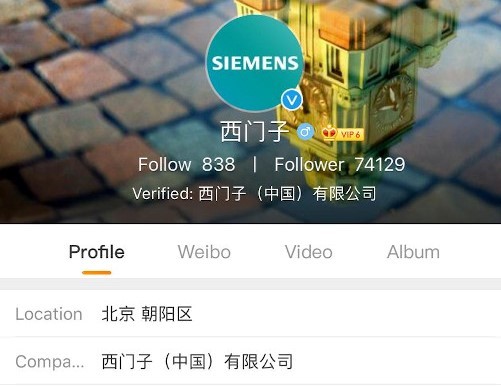 Our services in Weibo Marketing: 
Similar to other social media platforms there are two types of accounts that users can create on Weibo: Private accounts and corporate accounts. If you are a company, corporation or organization, it is highly recommended to create a corporate account, marked with a big blue "V" and displaying your company logo. This will not only increase your brand awareness, but also give you a professional image. Many famous German companies have already set up a company account on Sina Weibo some time ago, such as Siemens, Volkswagen, Trumpf, Kuka AG, BASF SE and Bayer AG.
From planning to implementation
Our process in Weibo Marketing: 
01.
Account creation
We create your official Weibo company account, extend it with additional functions and adapt it to your corporate design – even for companies without a Chinese business license!
02.
Content & Community 
We support you in the translation/creation and management of relevant and interesting content, the integration of e-commerce shops or ongoing service support.
03.
Promotion – Ads & KOL
We make your account visible to millions of users and generate new followers through Weibo ads (CPC/CPM) and target group specific influencers (Key-Opinion-Leader). 
On our new WeChat account, we regularly post informations and updates about China Digital Marketing. Learn more about how to successfully conduct digital marketing in China.
Scan the QR code or enter our WeChat ID "Eviom_Group", follow us and stay informed about China Digital Marketing.
(Note: The QR code must be scanned within the WeChat app)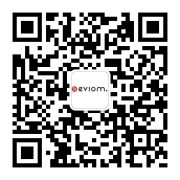 Satisfied customers are the best accolade

"As a globally active provider based in Germany, we deliberately looked for the agency profile that eviom offers: Experience in Chinese B2B business and at the same time personal consulting from Germany. The successful course of the project has confirmed our decision. eviom's German-Chinese team supported us in the strategic analysis as well as in the operative set-up and expansion of our online marketing activities in channels such as WeChat and Baidu. Thanks to the competent advice and uncomplicated communication, we were able to set the right course and quickly generate initial successes. We are looking forward to continuing our cooperation."
Alexander Kampschulte, Head of Marketing, WITT-GASETECHNIK GmbH & Co KG

"At MAGGI, we wanted to further strongly develop our digital marketing and e-commerce business. eviom played an important role in this and supported us in the search, content marketing and social media areas in particular. Moreover, it was fun to work with the eviom team because they also implemented the project with passion and the necessary humour, despite the ambitious goals."
Patrick Swientek, Head of Digital, Maggi GmbH
Many years of experience and truly all-round service
Your contact partner at eviom
Do you have questions about our China Marketing products and services or do you want to get basic information about digital optimization measures? Simply contact us in German, English or Chinese – we will be happy to help you!