The effective scoring of your leads
After the successful lead generation, we process your leads based on an efficient lead scoring system. 
Our long-term goal is to qualify your potential buyers so that you can use your sales force efficiently. We filter out the prospects who show a real intention to buy your product or service. As a basis for evaluation, we consider profile data (explicit and implicit data), recency as well as reactions to your marketing measures (lead nurturing campaign).
Explicit Scoring
Explicit scoring refers to the data related to the lead's profile. In most cases, the prospect already enters the data in the form.
Examples of explicit data include:
position in the company,
company industry,
company size,
number of employees, etc.
Certain points are assigned to the respective positions and this results in the explicit evaluation and thus the potential for concluding a purchase. In our graphic these leads are classified under A, B or C.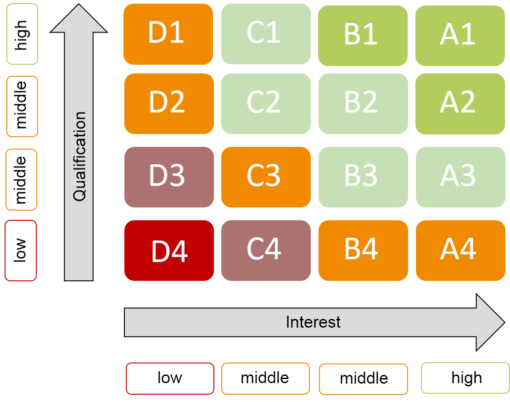 Implicit Scoring
Implicit scoring captures and evaluates the potential buyer's interactions and reactions to communications with your company. What documents has the lead downloaded? Does he respond to marketing emails? Has he participated in events? How often does he visit your website? Various points are assigned to these activities and added together. This results in the key figure for the activity of your prospects.
For each lead, you get a combination of a letter and a number that infers the potential of closing a sale and the level of interest. In order to successfully implement a scoring model, the cooperation of marketing and sales, the definition of the criteria for the ideal lead which activities are meaningful, is a prerequisite.
As an agency for lead management, we support you in the planning and operational implementation of your lead management strategy and help you to acquire high-quality leads and thus new customers in the long term.
Lead Scoring step-by-step
Our ideal-typical lead scoring processes
01.
Classification
We assign factors to your buyer personas that must be specified during form submission (lead generation).
02.
Qualification
We analyze which basic characteristics a lead who is ready to buy must have and filter them out.
03.
Priorization
We define prioritization factors and points which help us to distinguish interested, well-informed leads from others.
04.
Scoring
We assign a score to the scoring factors to analyze which ones are qualified.
Our target-oriented packages for your lead management
Package S
✓ Virual Kick-Off Workshop "S"
✓ 1 test campaign for 1 persona (3 month duration, 1 content element)
✓ Planning and setup of 2 touchpoints (e.g. SEA, LinkedIn, XING, etc.) with existing content from clients
✓ Conception of a landing page (creation through client)
✓ 1 standard form
✓ Transfer of generated leads without lead guarantee as CSV/XLS file
Package M
✓ Virtual or on-site kick-off workshop "M"
✓ 2 test campaigns for 2 personas (3 month duration each, 1 content element)
✓ Planning and setup of 2-3 touchpoints (e.g. SEA, LinkedIn, XING, etc.)
✓ Creation of 1 content element (Whitepaper, Checkliste, etc.)
✓ Conception of 2 landing pages (Creation through eviom in the client CMS)
✓ 1 standard form
✓CRM connection from HubSpot or Evalanche
✓ Transfer of leads in a CSV/XLS file (Evalanche) or connection in HubSpot
Package L
✓ Virtual or on-site kick-off workshop "L
✓ 2 test campaigns for 2 personas (duration 3 months each, 2 content elements, individual campaign domain – optional).
✓ Planning and setup of 3 touchpoints (e.g. SEA, LinkedIn, XING etc.)
✓ Conceptual design of 2 landing pages (creation CMS by eviom)
✓ 2 standard forms
✓ CRM connection of further systems (SAP, Salesforce, MS Dynamics etc.)
✓ Creation of marketing automation workflows
✓ Implementation of a lead scoring system
✓ Further qualification of leads, e.g. through call center services (optional)
✓ Individual connection to customer CRM
Many years of experience and truly all-round service
Satisfied customers are the best accolade

"For us, eviom is also a strategic sparring partner for all questions of online marketing and digital trend development. In our close collaboration with eviom, we particularly value the competent, highly-dynamic and top-professional cooperation."
Silvio Wagner, Bigpoint GmbH

"At MAGGI, we wanted to further strongly develop our digital marketing and e-commerce business. eviom played an important role in this and supported us in the search, content marketing and social media areas in particular. Moreover, it was fun to work with the eviom team because they also implemented the project with passion and the necessary humour, despite the ambitious goals."
Patrick Swientek, Head of Digital, Maggi GmbH
Do you have any questions about our Digital Marketing services or want to generally inform yourself about how you can successfully implement the digitalisation of your business?
Simply contact us and we'll be happy to help you!