Changes in media usage and the digital transformation are also changing traditional B2B sales.
Lead management and the efficient use of resources are becoming increasingly important. Classic cold calling is becoming less and less common. Before making a purchase decision, decision-makers in B2B companies already inform themselves in detail via search engines, websites, social media, and much more.
What are B2B leads?
A lead is a prospective customer, who may want to buy a product or receive a service from you. This person is not a buyer yet, but is in the general information phase and wants to learn more about a topic that is important to him.
In this context, a distinction is made between cold, warm and hot leads. The task is to generate addresses from this potential of interested parties and to bring them closer to the purchase decision step by step and to convert them into customers in the medium term.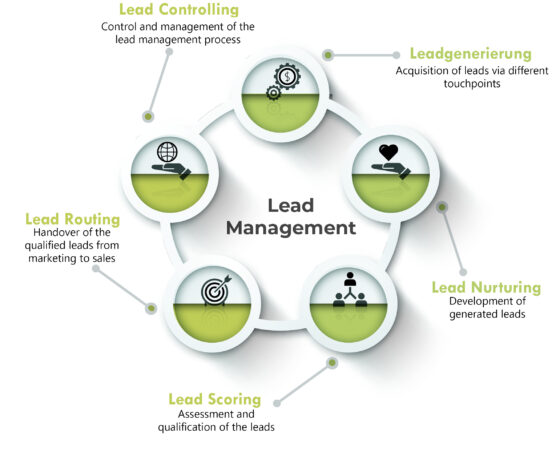 How does the lead management process work?
The sales funnel is particularly suitable for illustrating the lead management process. This contains several stages in the course of the customer journey of new leads. At each stage, relevant content influences the potential buyer's decision.
Our Lead Strategy building blocks
Our target-oriented packages for your lead management
Package S
✓ Virual Kick-Off Workshop "S"
✓ 1 test campaign for 1 persona (3 month duration, 1 content element)
✓ Planning and setup of 2 touchpoints (e.g. SEA, LinkedIn, XING, etc.) with existing content from clients
✓ Conception of a landing page (creation through client)
✓ 1 standard form
✓ Transfer of generated leads without lead guarantee as CSV/XLS file
Package M
✓ Virtual or on-site kick-off workshop "M"
✓ 2 test campaigns for 2 personas (3 month duration each, 1 content element)
✓ Planning and setup of 2-3 touchpoints (e.g. SEA, LinkedIn, XING, etc.)
✓ Creation of 1 content element (Whitepaper, Checkliste, etc.)
✓ Conception of 2 landing pages (Creation through eviom in the client CMS)
✓ 1 standard form
✓CRM connection from HubSpot or Evalanche
✓ Transfer of leads in a CSV/XLS file (Evalanche) or connection in HubSpot
Package L
✓ Virtual or on-site kick-off workshop "L
✓ 2 test campaigns for 2 personas (duration 3 months each, 2 content elements, individual campaign domain – optional).
✓ Planning and setup of 3 touchpoints (e.g. SEA, LinkedIn, XING etc.)
✓ Conceptual design of 2 landing pages (creation CMS by eviom)
✓ 2 standard forms
✓ CRM connection of further systems (SAP, Salesforce, MS Dynamics etc.)
✓ Creation of marketing automation workflows
✓ Implementation of a lead scoring system
✓ Further qualification of leads, e.g. through call center services (optional)
✓ Individual connection to customer CRM
Many years of experience and truly all-round service
Satisfied customers are the best accolade

"For us, eviom is also a strategic sparring partner for all questions of online marketing and digital trend development. In our close collaboration with eviom, we particularly value the competent, highly-dynamic and top-professional cooperation."
Silvio Wagner, Bigpoint GmbH

"At MAGGI, we wanted to further strongly develop our digital marketing and e-commerce business. eviom played an important role in this and supported us in the search, content marketing and social media areas in particular. Moreover, it was fun to work with the eviom team because they also implemented the project with passion and the necessary humour, despite the ambitious goals."
Patrick Swientek, Head of Digital, Maggi GmbH
Do you have any questions about our Digital Marketing services or want to generally inform yourself about how you can successfully implement the digitalisation of your business?
Simply contact us and we'll be happy to help you!