Marketing automation as an important channel in the sales funnel
Marketing automation is a tool that functions as an important instrument in customer retention. It is possible to analyze the habits of the user based on the user behavior. It is also possible to see which content you should present to the user within his customer journey.
Important tools here are the use of general lead generation, the integration of e-mail campaigns and the selection of interests until the final sale for your company.
5 reasons why every company should use marketing automation
It is quite clear that this does not only apply to products that focus on the end consumer. Especially products and processes that require explanation (B2B and B2C) can be simplified and the user is guided step by step through your new all-in-one solution.
More efficiency
Is it also the case that you have generated leads, but cannot process them promptly (we recommend within 24 hours)? In most cases, this is due to a lack of resources, i.e. employees who first validate the lead and then pass it on to the sales department. A typical scenario arises: Sales complains about the poor quality of the leads, Marketing fights for new ones. It's a never-ending cycle. But this is exactly where marketing automation solutions come in: Once the lead has been entered into the CRM, the marketing automation software takes over and regularly updates the lead with content.
High quality leads
Check what activities are performed with the sent digital content (opens, clicks on links, download of further content or even unsubscribing from the system) and validate the lead on this basis. This is often where lead scoring will kick in, allowing your marketing to pass on perfectly pre-validated leads to your sales team.
The connection between marketing and sales
Since the focus for Marketing and Sales is of course on closing deals, i.e. both departments are reaching for one goal, they should also work together here. Sales is much closer to the customer and can provide input on which topics may be relevant within marketing automation. Marketing then creates the digital content and plays with the leads. Furthermore, the two departments should also look at lead scoring together to identify and evaluate the relevant interactions.
Efficient use of sales resources
If your sales department receives perfectly pre-qualified leads from marketing, your company will save sales resources in the long run. Instead of handling each lead individually before, you can now determine exactly which lead is most likely to close and focus on that lead.
Analyzing results
Similar to all online marketing activities, you can also measure and analyze your results with marketing automation. Here, we recommend creating interfaces and offer our customers an all-in-one digital solution that allows you to access all results in real time via a link. It is best to start from the lead sources (SEA, social, affiliate, …) and clearly illustrate the results (mostly impressions, clicks, conversions, costs). In the next step, identify relevant KPIs from your CRM system such as which interactions occurred on the 1st automation email, followed on the interactions on the 2nd automation email and so on. At the end of the process, you will then see how many high-quality leads were produced.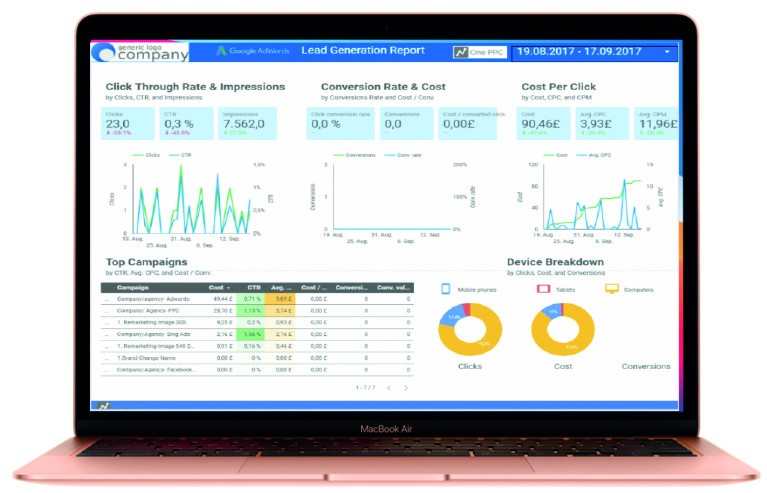 How can you use marketing automation to your advantage?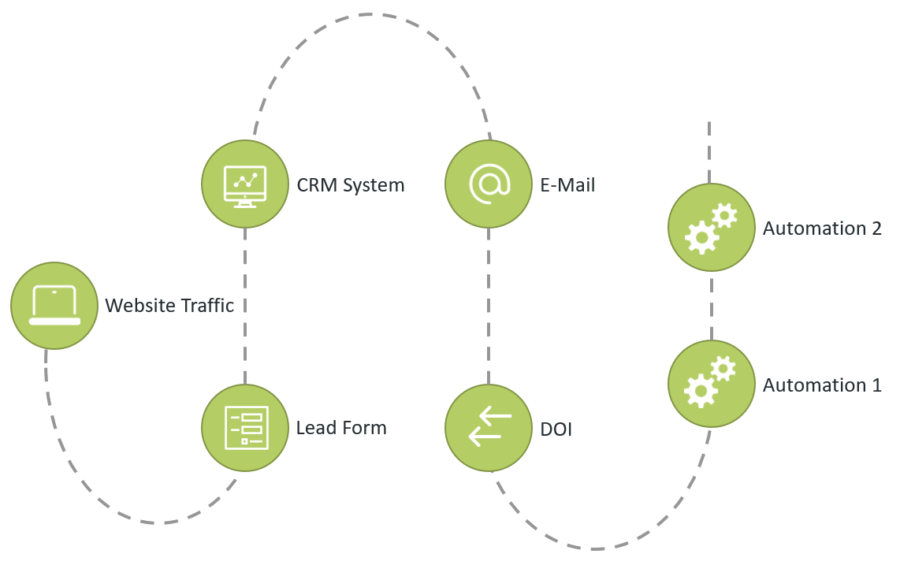 1. Getting in touch with potential customers
Reach out to your potential customers and pique their interest. To do this, use proven measures such as SEA, blog posts, social media marketing, etc. Be present exactly where your target group is (tip: always keep an eye on your Google Analytics for target group analysis).
2. The right trigger for new leads
Why should potential customers give you their contact details? What added value do they get from it? And that's exactly why you should make the effort to produce precisely this added value. This can be whitepapers, webinars or even checklists. When it comes to initial triggers, pay particular attention to the call-to-action and provide direction.
3. Collecting the right data
To transfer the contact data to your CRM, create a lead form and include it on the landing page. Choose the necessary fields carefully: The email address should be a mandatory field, because this is the only way to get started with email marketing. Submitting the phone number is usually the biggest hurdle, but there is no other way to reach your leads by phone.
4. Double Opt In
Of course, the Double Opt In (DOI) is collected here as well, so nothing can stand in the way of your email marketing.
5. Marketing Automation Tool
There are numerous tools that make marketing automation easier for you. It is important to get advice right from the start in order to identify the right tool. Quite a few tools rely on a modular system that allows you to add and remove services. This can quickly lead to hidden cost traps. So from the start, find out in detail about your software solution, exactly what goal you want to pursue with automation and whether you have enough manpower to successfully implement this marketing measure. We recommend the use of a CRM system in which you can create different clients. This not only promotes clarity, it also allows each area to have its own login.
6. The automation flow for your content marketing
Now the time has come, marketing automation can be activated. Give the user a benefit with every communication to keep getting interactions (feel free to test it here at eviom: enter your contact details in the form below and experience live first-hand how eviom uses this process – successfully). Coordinate the content of each marketing automation with your content marketing team as well as with your sales team, so that the content is logically and sales-promoting built on each other. You can also define here which lead scoring strategy you want to use and when is the right time to expect final sales and to pick up the phone.
Do you have any questions about our Digital Marketing services or want to generally inform yourself about how you can successfully implement the digitalisation of your business?
Simply contact us and we'll be happy to help you!