Are you looking for a communications channel to contact your customers, partners and employees directly and interactively via the internet? Be active now!
With Facebook, Instagram, Snapchat, Twitter, Pinterest or Xing and LinkedIn, etc., there are many opportunities for the optimal customer relations. Messenger functions such as WhatsApp or Facebook Messenger are also great options. This means you can be available to your customers directly and personally.
We at eviom GmbH provide you with tailored advice in the choice of the right social media channels in both the B2B and B2C sectors.
With social media marketing you will reach your target groups in a direct way and can contact, interact with & market your products and services to customers, partners and employees in real time.
Moreover, social media marketing offers you innovative trend formats for your campaign design in order to create a unique brand experience for the user.
Our model Social Media Marketing process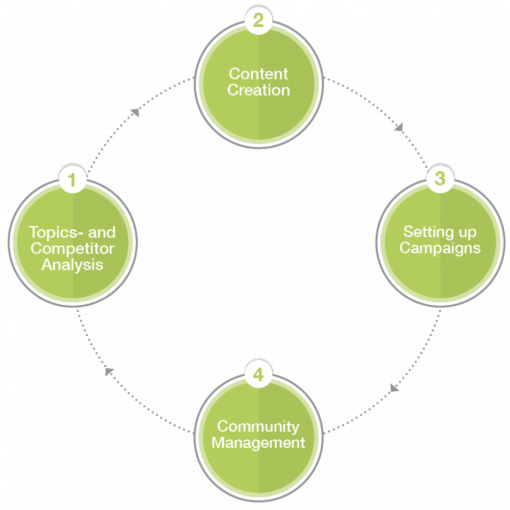 Social Media Marketing everywhere
Our Social Media Marketing services
Many years of experience and truly all-round service
Satisfied customers are the best accolade

"For us, eviom is also a strategic sparring partner for all questions of online marketing and digital trend development. In our close collaboration with eviom, we particularly value the competent, highly-dynamic and top-professional cooperation."
Silvio Wagner, Bigpoint GmbH

"At MAGGI, we wanted to further strongly develop our digital marketing and e-commerce business. eviom played an important role in this and supported us in the search, content marketing and social media areas in particular. Moreover, it was fun to work with the eviom team because they also implemented the project with passion and the necessary humour, despite the ambitious goals."
Patrick Swientek, Head of Digital, Maggi GmbH
Do you have any questions about our Digital Marketing services or want to generally inform yourself about how you can successfully implement the digitalisation of your business?
Simply contact us and we'll be happy to help you!