SEA (Search engine advertising) in China
How to become visible in the Chinese search engines via SEA
Baidu is the leading search engine in China and thus the equivalent of Google in Germany. Due to the Chinese firewall, Google is not used as a search engine in China. 90% of Chinese internet users use Baidu. That is a total of about 700 million users. With such a large audience, there is no better digital platform for advertising than Baidu. Even with the rise of other social media platforms and search engines, Baidu is still the best advertising platform in China. Baidu Ads help companies connect with billions of people. With relatively low costs, you can reach a huge number of potential customers or leads and increase your influence in the market. With a penetration rate of 95%, Baidu PPC (pay-per-click) ads help to significantly increase the visibility of your business.
But how do Baidu ads work? The answer is relatively simple: Similar to Google! Baidu Ads allow advertisers to target Chinese users through the Baidu network with various ad formats, including
Baidu Search Engine;
Baidu Mobile Apps;
Baidu Display Network;
Baidu Forum, Wikipedia, Zhidao (Social Q&A) 
Some future-oriented luxury brands, such as Gucci, Mercedes-Benz and Sephora – all of which have performed exceptionally well in China – are listed in Baidu's paid SERPs (search results) with rich, large-format ads. This makes it clear that it makes sense to advertise on Baidu in order to get off to a successful start as a company in China.
Baidu is the best choice for your ads in Chinese search engines. Especially because the Chinese search engine market is constantly changing and new platforms are being added, it is essential to understand the dynamics of the market. In the following, we have listed other search engines that can be of great importance, especially for the B2B market.
Baidu advertising of Gucci in China:
(Desktop + Tablet + Mobile)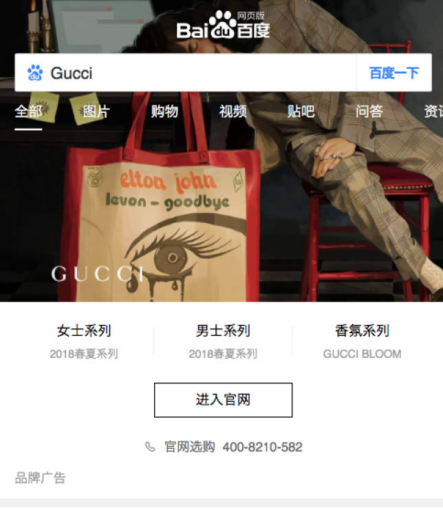 Overview important Chinese search engines: 




From planning to implementation
On our new WeChat account, we regularly post informations and updates about China Digital Marketing. Learn more about how to successfully conduct digital marketing in China.
Scan the QR code or enter our WeChat ID "Eviom_Group", follow us and stay informed about China Digital Marketing.
(Note: The QR code must be scanned within the WeChat app)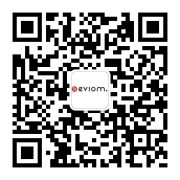 Satisfied customers are the best accolade

"As a globally active provider based in Germany, we deliberately looked for the agency profile that eviom offers: Experience in Chinese B2B business and at the same time personal consulting from Germany. The successful course of the project has confirmed our decision. The German-Chinese team of eviom supported us in the strategic analysis as well as in the operative set-up and expansion of our online marketing activities in channels such as WeChat and Baidu. Thanks to the competent advice and uncomplicated communication, we were able to set the right course and quickly generate initial successes. We are looking forward to further cooperation!"
Alexander Kampschulte, Head of Marketing, WITT-GASETECHNIK GmbH & Co KG

"At MAGGI, we wanted to further strongly develop our digital marketing and e-commerce business. eviom played an important role in this and supported us in the search, content marketing and social media areas in particular. Moreover, it was fun to work with the eviom team because they also implemented the project with passion and the necessary humour, despite the ambitious goals."
Patrick Swientek, Head of Digital, Maggi GmbH
Many years of experience and truly all-round service
Do you have questions about our China Marketing products and services or do you want to get basic information about digital optimization measures? Simply contact us in German, English or Chinese – we will be happy to help you!