WeChat (

Wēixìn

) – the "all-in-one" App in China
How to use WeChat successfully for your China business
Do you want to do business in China or reach Chinese tourists abroad? Then WeChat should be an integral part of your digital marketing strategy!
The lifestyle app "WeChat" (Chinese "Wēixìn") of the Internet giant Tencent already has more than 1 billion daily users (!) and is THE (digital) center of life for many Chinese people – especially due to the strong mobile Internet use. It offers different account types with individual menus, mini-programs and games, eCommerce functions as well as payment services and thus combines many functions of western platforms like Facebook, Whatsapp, Paypal and Amazon in only one "all-in-one" – App.
It is this combination that opens up great opportunities for B2B and B2C companies, as users don't even need to leave WeChat to contact and communicate with brands, find your shops and products and also pay directly – online AND offline! Easy-to-use sharing functions ensure that your content is quickly distributed by your followers, e.g. in your "moments", and build trust with third parties. Official accounts can even integrate their own apps.
A WeChat profile is therefore more important than a website for many Chinese companies. Especially popular is the use of QR codes in online and also offline marketing such as on flyers: this is a simple way to add new accounts/companies and friends, advertise campaigns, pay for the taxi or even make a donation to the street musician.
Through extensive controls during account registration, WeChat avoids fake accounts such as Facebook and thus further increases the professional handling of the app. After registration, users have free chat services as well as telephone and video call functions at their disposal.
Example: WeChat-Account of "Coca Cola"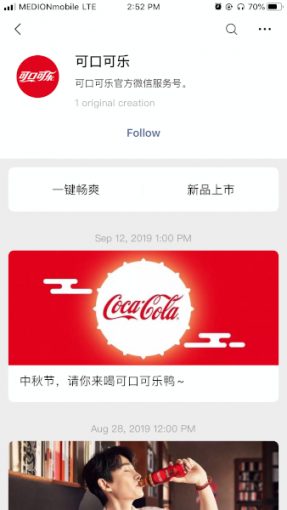 WeChat Account Homepage
(with 2 individual menus)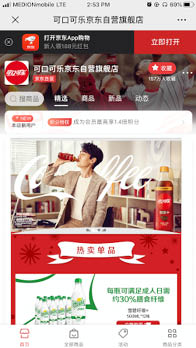 Overview of WeChat-Konten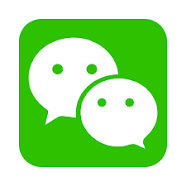 There are different account types for private and business use of WeChat, which allow own authorizations and marketing activities via API interfaces. Each corporate account is an "Official Account", which in turn is divided into different platform versions (China or International), account types (subscription and service) and verification status (verified and unverified).
2 essential alternatives for companies:
1. Subscription Accounts (订阅号)
These accounts focus on information and brand communication and are used like a daily news feed. Only these accounts can be used by individuals like bloggers and celebrities. They are suitable for companies that want to communicate with their customers and publish content on a daily basis.
2. Services Accounts (服务号)
Services accounts offer many functions such as API integration, e-commerce and CRM features. Verified accounts can also use WeChat Pay and WeChat Stores. Although companies can only post up to 6 articles four times a month, these appear – in contrast to subscription accounts – as "push notification" in the follower's chat list. The frequency is lower, but the visibility is much higher! Service Accounts are therefore the preferred choice for most companies with a larger audience or customer database and are ideal for customer service, as users can send messages directly to the account. In addition, they offer much more data and information for companies in the back office, such as the use of QR codes.
There are also "Enterprise Accounts" (企业号). These can be used primarily for internal communication between companies, similar to Slack, for example. These accounts are not publicly accessible. They can be extended by third-party APIs to include functions such as video conferencing and content sharing.
Features & Requirements
Numbers of messages
Push notifications
WeChat menus
QR codes
WeChat Advertising
API / Pay / Store / eCommerce
Subscription Account
1x message per day
No
Yes
Yes
Yes
No
Service Account
4x per month 1 to 6 articles each
Yes
Yes
Yes
Yes
Yes
From planning to implementation
Our services in WeChat-Marketing

01.
Account creation
We create your official WeChat account, extend it with additional functions and adapt it to your corporate design – even for companies without a Chinese business license!
02.
eCommerce / Shops
Operate eCommerce by integrating shops into WeChat or connecting e.g. JD shops including "cross-border payments" for companies from abroad.
03.
Content & CRM
We support you in creation and management of relevant and interesting content and track all important key figures via CRM for precise targeting and further account optimization.
04.
Promotion – Ads & KOL
We make your account visible to millions of users and generate new followers and traffic through WeChat Ads (CPC/CPM) and target group-specific influencers (key opinion leaders).
On our new WeChat account, we regularly post informations and updates about China Digital Marketing. Learn more about how to successfully conduct digital marketing in China.
Scan the QR code or enter our WeChat ID "Eviom_Group", follow us and stay informed about China Digital Marketing.
(Note: The QR code must be scanned within the WeChat app)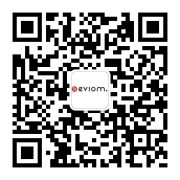 Satisfied customers are the best accolade

"As a globally active provider based in Germany, we deliberately looked for the agency profile that eviom offers: Experience in Chinese B2B business and at the same time personal consulting from Germany. The successful course of the project has confirmed our decision. The German-Chinese team of eviom supported us in the strategic analysis as well as in the operative set-up and expansion of our online marketing activities in channels such as WeChat and Baidu. Thanks to the competent advice and uncomplicated communication, we were able to set the right course and quickly generate initial successes. We are looking forward to further cooperation!"
Alexander Kampschulte, Head of Marketing, WITT-GASETECHNIK GmbH & Co KG

"At MAGGI, we wanted to further strongly develop our digital marketing and e-commerce business. eviom played an important role in this and supported us in the search, content marketing and social media areas in particular. Moreover, it was fun to work with the eviom team because they also implemented the project with passion and the necessary humour, despite the ambitious goals."
Patrick Swientek, Head of Digital, Maggi GmbH
Many years of experience and truly all-round service
Do you have questions about our China Marketing products and services or do you want to get basic information about digital optimization measures? Simply contact us in German, English or Chinese – we will be happy to help you!