SEO (Search Engine Optimization) in China
Increase your visibility in Chinese search engine via SEO 
In contrast to the western world, providers like Google are (almost) not present in China. On one side they are blocked, on the other side local search engines like Baidu, with a market share of over 70%, are simply technically better able to understand and index Chinese content.
Even though many mechanisms in SEO are basically similar, there are important aspects for the Chinese market in general and Baidu in particular that must be taken into account for successful SEO.
For example, the search engine prioritises Chinese websites in simplified Chinese, which are also hosted in China if possible due to the "Greater Firewall", as otherwise they will have a noticeable loss of speed. This is particularly annoying for the mobile use, which is very widespread among the Chinese, and is therefore detrimental to both SEO and usability.
Similar to Google, Baidu also offers its own services (properties), which are, however, integrated more intensively in the search engine results. These include, for example, services similar to the western Wikipedia or Slideshare. Baidu also generates most of its income through ads, but displays them much more frequently and thus even displaces top SEO positions. Further examples are the high image load, the strong integration of rich snippets and the internal website trust system.
Market share of Chinese search engines: 
(Desktop + Tablet + Mobile)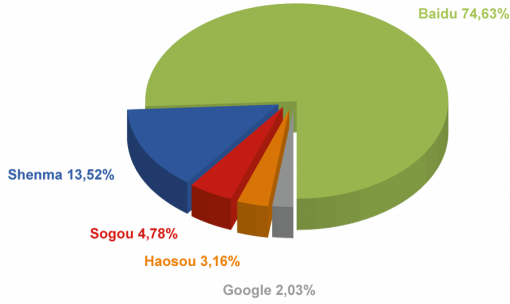 Overview important Chinese search engines: 




From planning to implementation
01.
Hosting
We support you in the selection of domain and hosting providers (Internet content providers) in China.
02.
Keyword analysis
We analyze the topics and keywords (search terms) relevant to you and your visitors with the highest SEO potential.
03.
Setup properties
By using additional presences such as Baidu Baike you gain additional visibility and trust.
04.
SEO Onsite
We analyze your website and optimize the technical and content factors for the Chinese market.
05.
SEO Offsite
The establishment of Chinese, qualitative external links (backlinks or content seeding) is still a success factor in Baidu.
06.
SEO reporting
We provide you with individual reporting on an ongoing basis and develop recommendations for further optimization.
On our new WeChat account, we regularly post informations and updates about China Digital Marketing. Learn more about how to successfully conduct digital marketing in China.
Scan the QR code or enter our WeChat ID "Eviom_Group", follow us and stay informed about China Digital Marketing.
(Note: The QR code must be scanned within the WeChat app)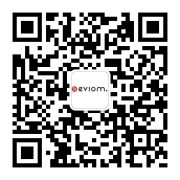 Satisfied customers are the best accolade

"As a globally active provider based in Germany, we deliberately looked for the agency profile that eviom offers: Experience in Chinese B2B business and at the same time personal consulting from Germany. The successful course of the project has confirmed our decision. The German-Chinese team of eviom supported us in the strategic analysis as well as in the operative set-up and expansion of our online marketing activities in channels such as WeChat and Baidu. Thanks to the competent advice and uncomplicated communication, we were able to set the right course and quickly generate initial successes. We look forward to continuing our cooperation"
Alexander Kampschulte, Head of Marketing, WITT-GASETECHNIK GmbH & Co KG

"At MAGGI, we wanted to further strongly develop our digital marketing and e-commerce business. eviom played an important role in this and supported us in the search, content marketing and social media areas in particular. Moreover, it was fun to work with the eviom team because they also implemented the project with passion and the necessary humour, despite the ambitious goals."
Patrick Swientek, Head of Digital, Maggi GmbH
Many years of experience and truly all-round service
Your contact partner at eviom
Do you have questions about our China Marketing products and services or do you want to get basic information about digital optimization measures? Simply contact us in German, English or Chinese – we will be happy to help you!