Every start-up is unique and may have very particular challenges and hurdles to overcome. The eviom Group therefore offers its services tailored to the respective company. These services range from pitch support to the operative implementation of measures, but also include access to experts, investors and business angels.
Startup boosting step-by-step
Our model start-up booster process

Our Startup Booster services
We assist start-ups with their launch or in the early marketing phase and offer them support wherever and whenever it is needed, whether this is through an external overview of the business model or the pitch document designed to convince banks, investors or business angels to come aboard. Further, we provide support through our own start-up experience, practical knowledge and our expertise from the most diverse of industries. We also assist in business model validation or preparation and manage this through to operative implementation.
We make sure that young companies are afforded fast, efficient and pragmatic practical implementation of the measures developed. To this end, we incorporate the start-ups in our Europe-wide start-up network and bring the entrepreneurs together with companies and concerns, media and investors/business angels.
Many years of experience and truly all-round service
Good reasons for the startup booster with eviom
Satisfied customers are the best accolade

ProSiebenSat.1 Accelerator: "The ProSiebenSat.1 Accelerator is the sponsoring programme for start-ups of ProSiebenSat.1 Media AG, on of the largest media cooperations in Europe. In this programme, young companies are supported with financing, mentoring, networking and their own office space. eviom works together with ProSiebenSat.1 and supports start-ups of the accelerator programme as an online marketing expert and mentor.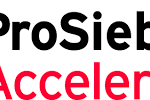 "At MAGGI, we wanted to further strongly develop our digital marketing and e-commerce business. eviom played an important role in this and supported us in the search, content marketing and social media areas in particular. Moreover, it was fun to work with the eviom team because they also implemented the project with passion and the necessary humour, despite the ambitious goals."
Patrick Swientek, Head of Digital, Maggi GmbH
Do you have any questions about our Digital Marketing services or want to generally inform yourself about how you can successfully implement the digitalisation of your business?
Simply contact us and we'll be happy to help you!